Today is deals and sales from different companies that are currently having sales. I took days to recharge and spend with my family and mental health. I have been cleaning my house like most out there. I am planning on still showing Deals and Steals. I know the lockdown has ended for some but not all. I am still planning on putting up deals companies willing to help with us parents on keeping our children at the right level or close too.
Memorial weekend deals are starting. I just had the pleasure of being on an Instagram live video. There were less than 30 people watching the live Instagram. Wende from Urban Decay announced that the All Nighter Spray full size is on sale for this weekend. This is rarely on sale but this sale makes the All Nighter Spray under $20. Urban Decay has it priced for $19 that is such a huge deal.
A few days ago I did order the
Stay Naked Lightweight Liquid Foundation
in 3 shades. There are 50 shades to choose from with different undertones and mastertones. Stay tuned to what my thoughts are on this foundation how it wears and feels on the skin. I have already been using the Naked Skin Foundation and have loved it.
Expires May 25th, 2020
Make sure you are signed up for Rakuten to get cashback. Currently Urban Decay is at 3% Cash Back. There is a link below if you want to use my link to sign up.
In the email from Urban Decay I got was a great hack to use the All Nighter Spray
You could not only spray your face with this setting spray but the mask inside to help keep the makeup off of it.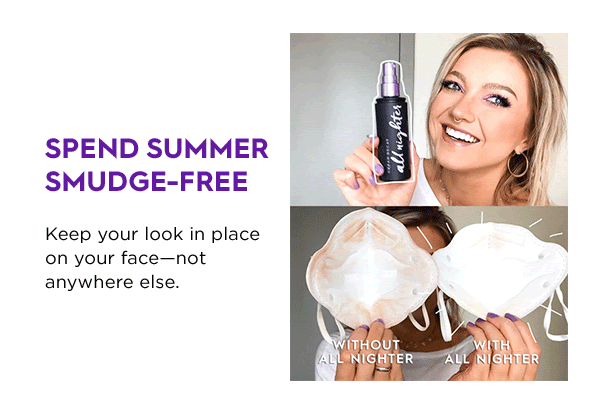 The Gift is for purchase more than $60 includes
Full-Size 24/7 Eye Pencil in Rockstar
Full-Size Original Eyeshadow Primer Potion
Exclusive Fanny Pack
Use Code: SUMMER
You can find the details below on how to redeem this offer.
I would like anyone who reads this to email me any deals to pass on to the readers. If you see a deal for helping parents teaching kids at home. If you see deals for kids for fast food or places giving free meals with parent's purchase.
The only thing is companies can end the deal(s) at any time.
#newyear #newdecade #newdecadedeals #newdecadesales #specials #newperson #newyou #giveawaycomingsoon #luckyday #sephoraclosingstores #nordstromclosingstores #hourglassstoresclosing #eddiebauerclosingstores #covid19virus #bath&bodyworksclosingstores #targethourschanging #tractorsupplystillopen #dswclosingstores #jinsoonclosingstores #bbtheatresclosing #macysstoresclosing #baremineralsstoresclosing #mauricesstoresclosing #disneystoresclosed #jockeyclosingstores #championclosingstores #erincondrenstoresclosing #announcement #announcementcovid19 #jcpclosingstores #optionsforfoodsforkids #midwestsonic #Missourideals #staynakedlightweigthliquidfoundation #AllNighterSettingSprayOnSale #under$20 #urbandecay #memorial #memorialsales
(Earn 3% additional cashback)
Disclaimer: Currently I don't take a commission from websites. This will be changing soon. When this does for both Ashley and Diana we will note it.
Disclaimer: Pictures Urban Decay Website's - Edited by Coloure My Obsessions
Words for descriptions from Urban Decay Cosmetics Website borrowed for Coloure My Obsessions.
Disclaimer: I do make a small one time only commission if you sign up using my referral link for Ebates/Rakuten. I do have more in-depth details on how to earn the most money and how to benefit from using it.
#obsessionistas #colouremyobsessions #beautyblogger #beautyblog #coloure #color #cosmetics #sephora #jcpenny #sephorainjcpenny #sephorainsidejcpenny #minimakeover #haircare #SephoraCollection #shampoo #deals #sales #worthit #makeupjunkie #makeuprookie #makeuplover #sigmabrushes #sigmaeyebrushes #sigmaweeklydeals
#makeupenthusiastic #bogo #deals #sales #worthit #makeupjunkie #makeuprookie #makeuplover #minimakeover #sales #makeupschoolshopping #shopping #mens #womens #specials #juniorsmakeup